Forventet lesetid: 3 minutter
Emballasje er kun en del av en sammenhengende merkevareopplevelse som kan øke troen på markedsføringen din. Emballasjedesignet gjenspeiler merkevareidentiteten din – fra farger til typografi – og er ofte kundens første (og siste) inntrykk av bedriften din. Tenk på dette: hvis en kunde bestiller på nettet, er emballasjen din det første han vil se når bestillingen kommer. Og hvis kunden kjøper noe i butikken din, så vil den flotte emballasjen din gi et positivt inntrykk kunden vil huske lenge etterpå.
Enten du skal pakke inn produkter du selger i butikken din eller du må sende en bestilling, kan du benytte deg av bedriftens stil og personlighet (som logo, farger og typografi) til å gjøre produktemballasjen enda flottere med klistremerker, postkort, hengelapper og mer. Chris Johnson, en designer hos 99designs by Vista, laget en logo for Lune Candles med farger, skrifttyper og design som passer til alle typer materialer.
Begynn med en logo
Når du starter virksomheten din, er en logo noe av det første du trenger. Dette er en visuell presentasjon av merkevareidentiteten din, og må være til stede på alt markedsføringsmateriale, inkludert emballasje. Mens du lager logoen din bør du tenke på hvordan den kan brukes til å illustrere merkevaren din på ulike produkter. Her kan du se hvordan Lune Candles brukte den fullstendige logoen, men både bilde og tekst, på enkelte emballasjeartikler, og endrede versjoner på andre. Halvmånemotivet presenteres for seg selv på klistremerkene, mens navnet til merkevaren er skrevet fullt ut på klistremerkene og hengelappene.
Tips fra VistaPrint
Enten du skal starte en helt ny bedrift og trenger en logo eller ønsker å gi et lite løft til den du allerede har, kan ekspertene fra 99designs by Vista hjelpe deg.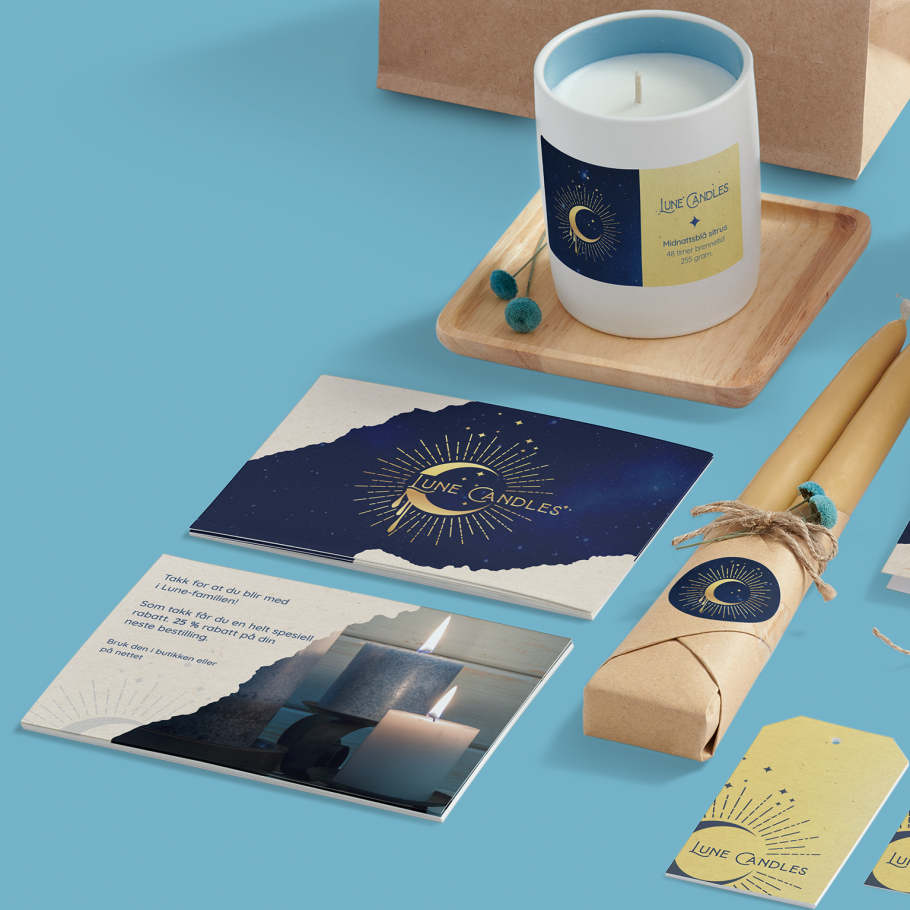 Fargepalett
Det er mye å tenke på når du skal velge farger til merkevaren din – ønsker du energiske, varme fargetoner eller beroligende farger? Nyanser av blått passer bra for Lune Candles – de refererer til det himmelsk-inspirerte merkenavnet og de flotte fargene til nattehimmelen. Her bruker stearinlysfirmaet ulike nyanser av blått og merkevarens fargekombinasjoner til å skape dybde med de kreative emballasjeproduktene. Og takket være den sammenhengende fargepaletten, kan Lune mikse og matche for å lage klistremerker, hengelapper og postkort som alle er litt forskjellige, med allikevel helt i tråd med merkevaren.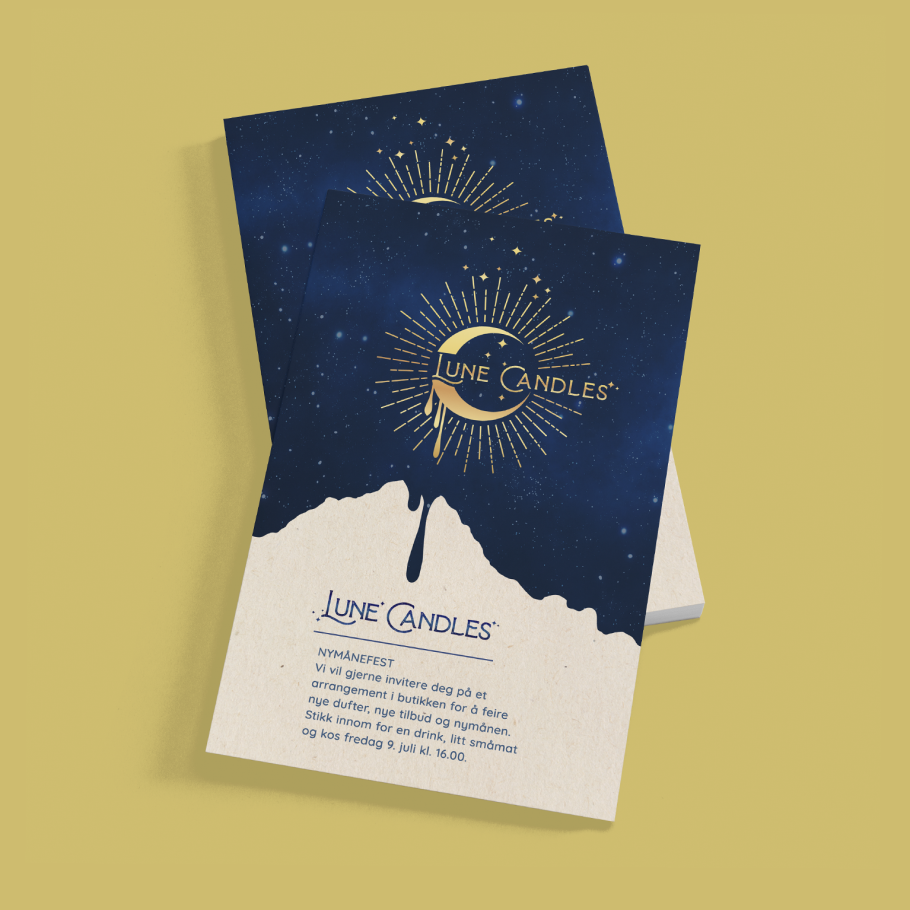 Topografi
Når du velger typografi for merkevareidentiteten din, bør du tenke på at den skal være enkel å lese og trekke til seg oppmerksomhet. Valg av skrifttype formidler også tone, humør og personlighet for merkevaren din, og må se flott ut på tvers av emballasjeproduktene til bedriften din. Bruk konsekvent den samme skrifttypen (eller to), enten det er til hengelapper eller produktetiketter på ark, for å styrke merkevareidentiteten din.
Her føles Lune Candles' hovedskrifttype som hentet fra en eventyrbok – lunefulle detaljer og en gullfarget overflate som gjenspeiler den himmelske identiteten deres. Den andre skrifttypen er en sans serif-font (uten seriffer) som er noe enklere og enda lettere å lese – perfekt til større tekstblokker på flyers og brosjyrer.
Hele kolleksjonen
Lag en serie av emballasjeprodukter som passer for din småbedrift – og vær konsekvent med bruk av farge og skrifttype. Og enda viktigere, tenk på hva du selger og hvordan du ønsker å pakke det. Selger du kun på nettet? Da trenger du kanskje ikke papirposer. Selger du teblader i løsvekt? Vurder å pakke produktet i et miljøvennlig syltetøyglass du kan merke med et klistremerke.
Ta en titt på alt Lune Candles bruker for å skape produktemballasje som er både passer godt til merkevaren og som ser flott ut.
Papirposer. Legg til (eller klistre) logoen din på en enkel papirpose for øyeblikkelig varemerking.
Pakketape med logo. Logoed packing tape reinforces your brand identity from the outside, in. Segment to be removed for NO
Hengelapper. Fest hengelapper på produktene dine med bånd eller hyssing med fargene til merkevaren din.
Klistremerker. Bruk runde klistremerker på ark for å gjøre vanlige papirprodukter om til varemerket emballasje.
Notatkort. Lag takkekort til å legge ved hver bestilling – legg til en overflate av preget folie for noe ekstra spesielt.
Postkort. Spre nyheten om et spesielt tilbud eller et nytt produkt med et postkort – kraftpapir gir ekstra tekstur.
Roll labels. Remove from NO Plasser logoen din på (nesten) alt du selger med etiketter på rull.
Møt designeren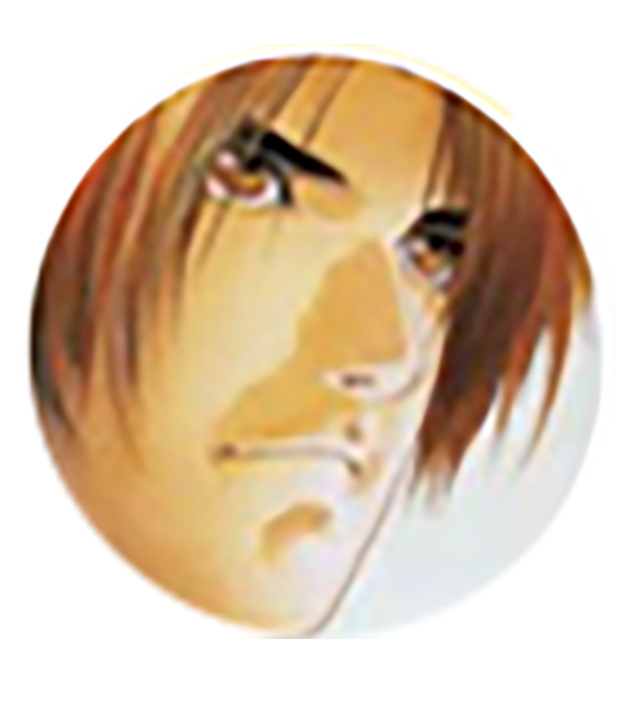 Chris Johnson fra 99designs by Vista skapte denne logoen for Lune, et stearinlysfirma. Den er inspirert av et himmelsk tema og håndtegnede elementer. «Jeg lagde en halvmåne med en effekt av smeltet voks som drypper, som formidler budskapet for selve produktet, nemlig stearinlys.»
Chris er en allsidig designer som elsker å skape gøyale, lyse og fargerike design og bevegelsesgrafikk. Han er en del av 99designs by Vista-nettverket – så sjekk porteføljen hans hvis du ønsker å samarbeide med ham for å designe merkevareuttrykket ditt.
99designs by Vista kan hjelpe deg med å lage en logo eller et merkevareutseende som er velegnet for emballasje. Og nå du har funnet et flott logodesign, kan du bringe det til live med en rekke emballasjeprodukter (som Lunes) som vil bli til stor glede for kundene dine.