Forventet lesetid: 4 minutter
Som eier av en liten bedrift, vet du at det er viktig å knytte bånd til kundene til enhver tid. Heldigvis får du økte muligheter til å kommunisere med kundene dine i julen når de bestiller flere produkter.
Du kan gjøre et varig inntrykk på kundene dine gjennom et produktutvalg de sent vil glemme, spennende tilbud og praktiske handleopplevelser. Og det trenger ikke være ultravanskelig eller dyrt … selv den minste detalj utgjør en forskjell. Her får du noen gjør-det-selv-ideer du kan bruke for å finpusse markedsføringen din i vinter.
7 gjør-det-selv-ideer til julen 2021:
Bruk etiketter med julemotiv for å piffe opp produktene.
Bruk visittkort som insentiver.
Ha klistremerker på emballasjen for å gjøre den mer personlig.
Pakk inn gaver i butikken med papirposer med logo eller personlig tilpassede tøyposer.
Tilpass returlappene og bruk pakketape med logo på forsendingene dine.
Tilby deg å levere gaver lokalt, eller legg til rette for henting i butikk.
Sett fart på aktiviteten din i sosiale medier med små gaver.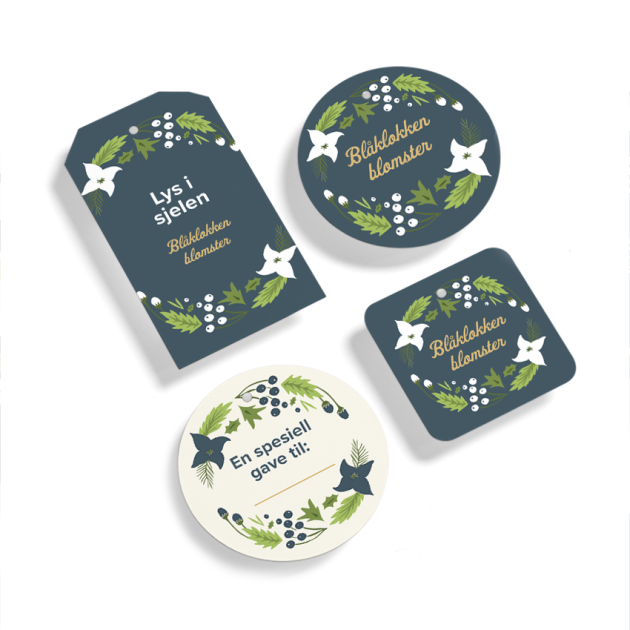 1. Gi varene en oppfriskning gjennom prislapper med julemotiv.
Tilpassede etiketter kan festes på gensere eller henges rundt en krukke slik at det blir julestemning over alt. Bestill et eget sett til høytiden (kanskje med litt glitter), og oppmuntre kundene til å bruke baksiden av etiketten som «til og fra lapp».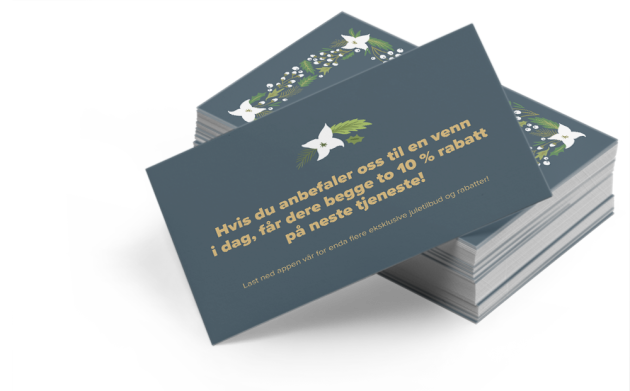 2. Bruk visittkort som insentiver.
Visittkort kan brukes til mye mer enn bare visittkort. Du kan også bruke visittkort som insentiver. Spre ordet om bedriften din ved å legge et visittkort med vennerabatt ved hver bestilling. Uansett om du tilbyr gratis frakt eller en rabatt på neste kjøp skaper du en hyggelig relasjon til kunden din … som oppmuntrer dem til å komme tilbake. Husk å takke for at de handler oss deg også – lojalitet er viktig.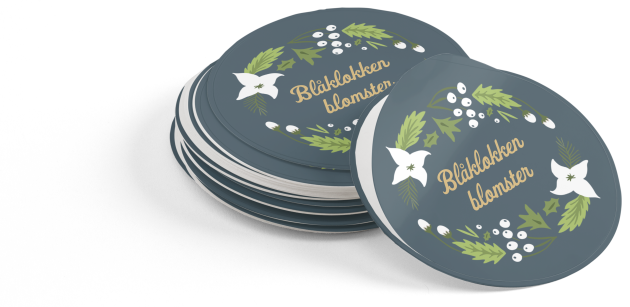 3. Bruk klistremerker til å piffe opp emballasjen.
Flott emballasje kan utgjøre en forskjell, spesielt i disse Instagram-tider. Bruk logoen din eller et unikt design på klistremerker og bruk dem på alt du sender ut til jul. Du kan også bruke klistremerker på ark i stedet for tape når du pakker inn gaver. Gi bestillingene et friskt pust med et enkelt klistremerke eller to … slik at kundene snakker om bedriften til din til andre.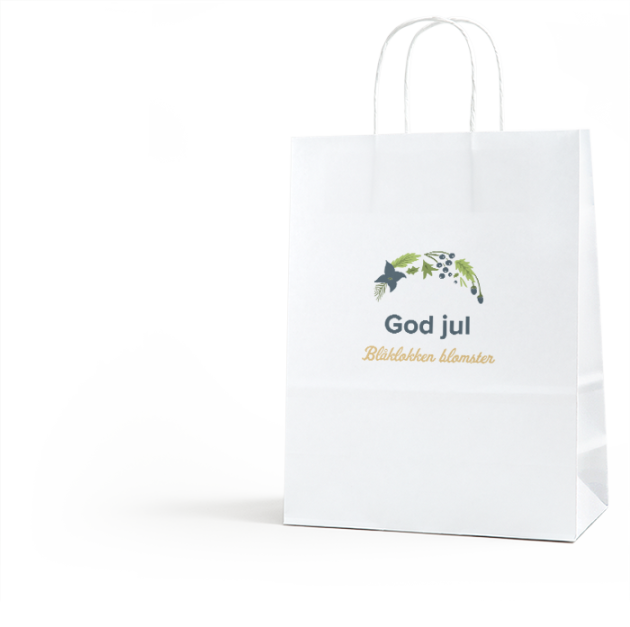 4. Legg bestillingene i poser med logo.
La handleposene få logo slik at kundene kan gjøre litt av jobben! Du kan enten bestille poser med logo eller julemotiv, eller tilpasse vanlige papirposer med klistremerker med logo eller et personlig stempel. Hva med å belønne gode julekunder med en spesiell tøypose? De kommer til å bruke den om og om igjen og vil nok føle seg veldig beæret.
5. Gjør pakkene du sender helt spesielle med tilpassede returlapper og pakketape med logo.
Hvis du sender pakker til kundene, bør du koordinere emballasjen med resten av markedsføringsmaterialet ditt. Plasser logoen på returlappen og pakketapen med logo slik at til og med esken eller konvolutten du leverer varene i føles spesiell. Det er jo så enkelt å ta av adresseetikettene med klistremerke at alle bestillingene kommer til å bli sendt ut i tide.
Tips fra Vistaprint
Vil du gjøre emballasjen enda mer personlig? Legg ved et håndskrevet takkekort eller julekort i pakken for å vise hvor takknemlig du er.
6. Tilby deg å levere gaver lokalt, eller legg til rette for henting i butikk.
I fjor så vi en viktig utvikling innen kontaktløs levering og henting. Du kan fortsette å tilby denne tjenesten i jule for å gjøre det enklere for kundene dine. Gjør prosessen enklere ved å etablere en egen pakkesone i butikken eller studioet ditt, eller tilby kundene å levere ferdig innpakkede gaver på døren – klare til å gi bort. Og ikke glem å fortelle om tjenestene du tilbyr i innlegg i sosiale medier eller som P.S. neste gang du sender ut postkort.
7. Sett fart på aktiviteten din i sosiale medier med små gaver.
Skap forventninger til jul i bedriften din hos kundene – gi bort gaver med logo. Skriv et innlegg i sosiale medier som oppfordrer kundene til å stikke innom. Be dem om å følge bedriften din og tagge en venn eller to i kommentarfeltet. Dette kan øke synligheten din uten at det koster skjorten, og du kan få nye følgere og engasjere de du allerede har. Uansett om du bestemmer deg for å gi bort en personlig tilpasset tøypose, et gavekort i butikken eller en annen vare, er vi sikre på at små gaver kan skape ekstra oppmerksomhet rundt bedriften din.